Custom etched cups and glasses
Coffee mugs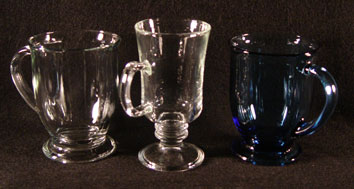 The two styles of coffee cups I have available are the Irish mugs and the large coffee cups. The large cups are 14 ounces in clear and blue and the irish mugs are 7 1/2 ounces. These are medium quality to keep the price down. If you have any questions send an email. My email address is dean [at] glassdesignllc.com. I can give you a price quote.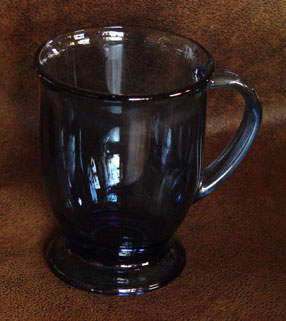 Irish coffee mugs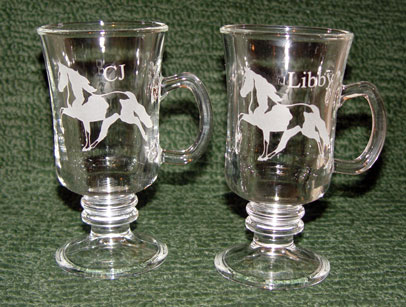 These Irish mugs were etched for a gift. The design is of spotted walking horses with the horses names. Irish coffee mugs make very elegant gifts. Names, dates and designs can transform a coffee mug into a work of art. The design is on one side, the left side.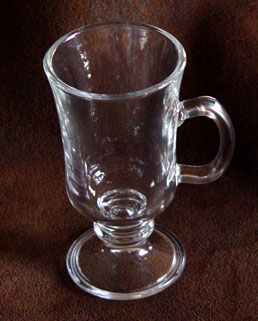 Wine glasses and Champagne Flutes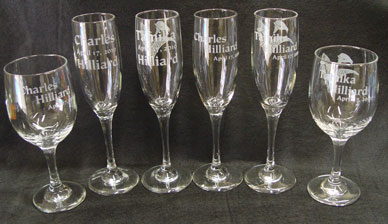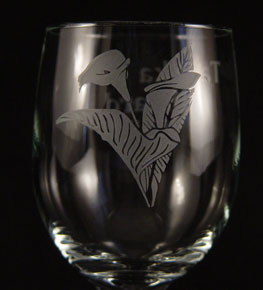 I have two styles. Wine glasses and champagne flutes. The glasses shown have a flower etched on the opposite side of her glass. They have the name and wedding date. His and her sets.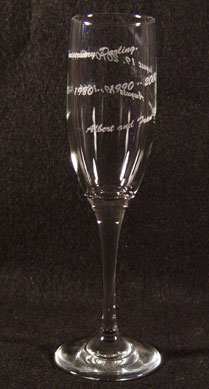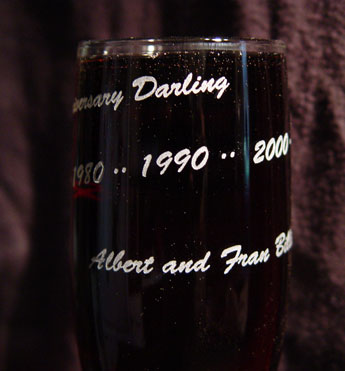 These are samples of flute glasses with a spiral design that goes all the way around the glass several times. The customer wanted the names and the original wedding date and then every decade till the 50th anniversary. The flute on the left is the finished product and the flute on the right was the first sample. This was a challenge but I got them to come out even. If you have any questions send an email. My email address is dean [at] glassdesignllc.com. I can give you a price quote if you need more than a couple of glasses made, a custom design, a logo created or if you need a higher quality glass.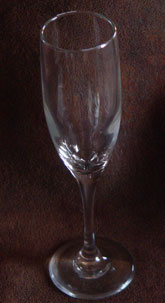 Frequently asked questions
Lettering and font styles
I have several font styles to choose from, as shown. This is to keep it simple and to not boggle your brain with to many choices. These are the top 12 fonts that I use. For those of you that want to be creative or unique... here is access to numerous fonts at MyFonts. Please note, If you pick a font from MyFonts, email me the name when I send you email about your artwork. Do Not buy it, I will do that and I may already have it. If you have a certain font in mind, you are sure to find it here. You can look at the thousands of styles if you want. Or you can visit my album at MyFonts to look at more lettering styles that I think would etch very well. The fonts in my album would not cost extra because they are on my wish list or I already have them. Fonts chosen from main web site could cost extra. This is usually around $19.00 but as high as $100.00. If it is a font that I don't think I will use again, I will have to charge you. There are free fonts on the internet but I MUST have a commercial licence to use them.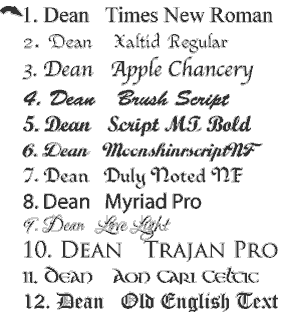 What if I want custom art?
I have a large collection of clip art that works great for smaller designs like cups and glasses. If you want a dog or horse or something simple I can usually do it for the design price. I can also use photo emulsion techniques to reproduce photographs. This takes more time and is more expensive, so the rule of thumb is the more detail, the more it cost. I would be happy to take a look at your Ideas and give you a price. You can send me a email or use the Contact form for more information. My email address is dean [at] glassdesignllc.com. This is all done in house. Each order is custom made.
How long does it take?
I usually ship in 5 to 7 days if the glass is in stock. There are too many styles and shapes to keep them all in stock. When you order I will send an email letting you know what the shipping schedule will be. I will stock the most popular. If I have to order in the glass I can still usually ship in two weeks.
Ordering information
When I receive your order I will send an email to you to find out the Lettering style or font, logo information if applicable and the persons name and/or what you want to say. When I receive that information I will email back the artwork with the time frame for shipment.
Shipping
I ship to the lower 48 contiguous states. I will ship with FedEx Home Delivery in most cases. If you need shipping to another country or outside the contiguous 48 States, please email me first for a quote. If you need special shipping arrangements or faster shipping, let me know in the first email and I will get you a price and more information.